Did you know that North Cascades National Park is one of the least-visited national parks in the United States? After reading and seeing the immense beauty this place has to offer, this fact will blow your mind too.
One of my favorite places to visit in Washington State is North Cascades National Park. Known as the "Swiss Alps of America," this underrated area of Washington is one of my most-recommended elopement locations for couples looking at having epic mountain views, glacial lakes, and green forests for their special day. This guides covers all things North Cascades. From the weather to the best places to elope, everything you'll need to know about this stunning area is located in this foolproof guide. Let's get into everything you need to know about how to plan your very own North Cascades elopement.
North Cascades Elopement Checklist
How Do I Get to North Cascades?
North Cascades is located just three hours north of Seattle. To reach the park, you'll want to fly into either the Seattle-Tacoma International Airport or the Bellingham International Airport. Bellingham is a short 1.5 hour drive to the park, but the airport is much smaller and offers less affordable flights and rental car options than Seattle.
Once you fly into the airport, you'll want to rent a car. A standard sedan will work just fine for 90% of locations. that being said, there are a handful of lesser known hiking trails that are located along forest service roads, most of which aren't maintained and contain many rocks and potholes. Before officially renting your vehicle, be sure to choose your elopement location and make sure a 4WD vehicle won't be necessary.
Best Time to Elope in North Cascades National Park
One of the most unique things about North Cascades National Park is the weather.
If you want to have the best elopement experience possible, I recommend eloping between mid-July and early October. Since the park is at such a high elevation, it gets a ton of snow, and while winter wonderland elopements are amazing, many of the well-known beautiful spots become inaccessible, and the driving becomes quite dangerous.
Pro tip: If you're wanting completely snow-free trails, I recommend eloping during the months of August or September. Love wildflowers? Plan your elopement for August!
My personal favorite time to visit the park is during late-September and early-October. This is when the fall colors are as vibrant as ever, and the weather is still fairly nice. However, the crowds are a bit high this time of year, as everyone wants to hike through the beautiful fall foliage. If you want to avoid the crowds, consider a sunrise or sunset elopement.
I recommend steering clear from spring and winter elopements in the North Cascades area. The weather is very unpredictable in this area. Especially in the spring, it's a game of chance. The snow shuts down roads, more than half the locations are inaccessible, and the weather is very cold.
6 Best Places to Elope in North Cascades National Park
These are just a few of the many different places to elope in North Cascades National Park. While some of these locations are technically in the Mt. Baker-Snoqualmie National Forest, they're right on the border of the park and still provide epic cascade views. To see more epic places to elope in Washington, check out this post.
Bagley Lakes
One of my favorite lakes within the park is called Bagley Lakes. This extremely accessible lake is the perfect spot for pictures. Since this is one of the more popular lakes in the area, I recommend a sunrise ceremony. There are also different viewpoints of the lake around various trails in the park. This is a great location for guests, especially those who aren't able to walk far distances, as you can see the lake right from the parking lot.
Ptarmigan Ridge
If you love to hike, the Ptarmigan Ridge is a great trail for your North Cascades elopement. It branches off of the popular Chain Lakes Loop. In my opinion, it's is one of the most underrated trails in the park. I know some secret trails around this area where you can experience jaw-dropping views without anyone in sight, like where this picture was taken right here!
An Alpine Lake
There are dozens of both accessible and hidden alpine lakes around the park. I know of multiple that would be perfect for an elopement. If you're looking for a quiet place to exchange vows without anyone around, I have a handful of lakes in mind, like this one pictured here that can be found within the park.
Artist Point
Artist Point is one of, if not, the most visited place in the park due to its accessibility. If you want to get up close and personal with Mt. Shuksan, this is the location for you. This area is beautiful during sunset, but again, keep in mind its popularity. There are other areas in the park that will get you similar views with less people.
Washington Pass Overlook
This drive-up location is perfect for elopements with friends and family. There is a 0.3 mile wheelchair accessible path that will take you to the famous Washington Pass Overlook. This area is very busy throughout the day, but stunning and a bit more quiet during sunset. There is also a nearby hiking trail that's ADA accessible and takes you to an incredible alpine lake!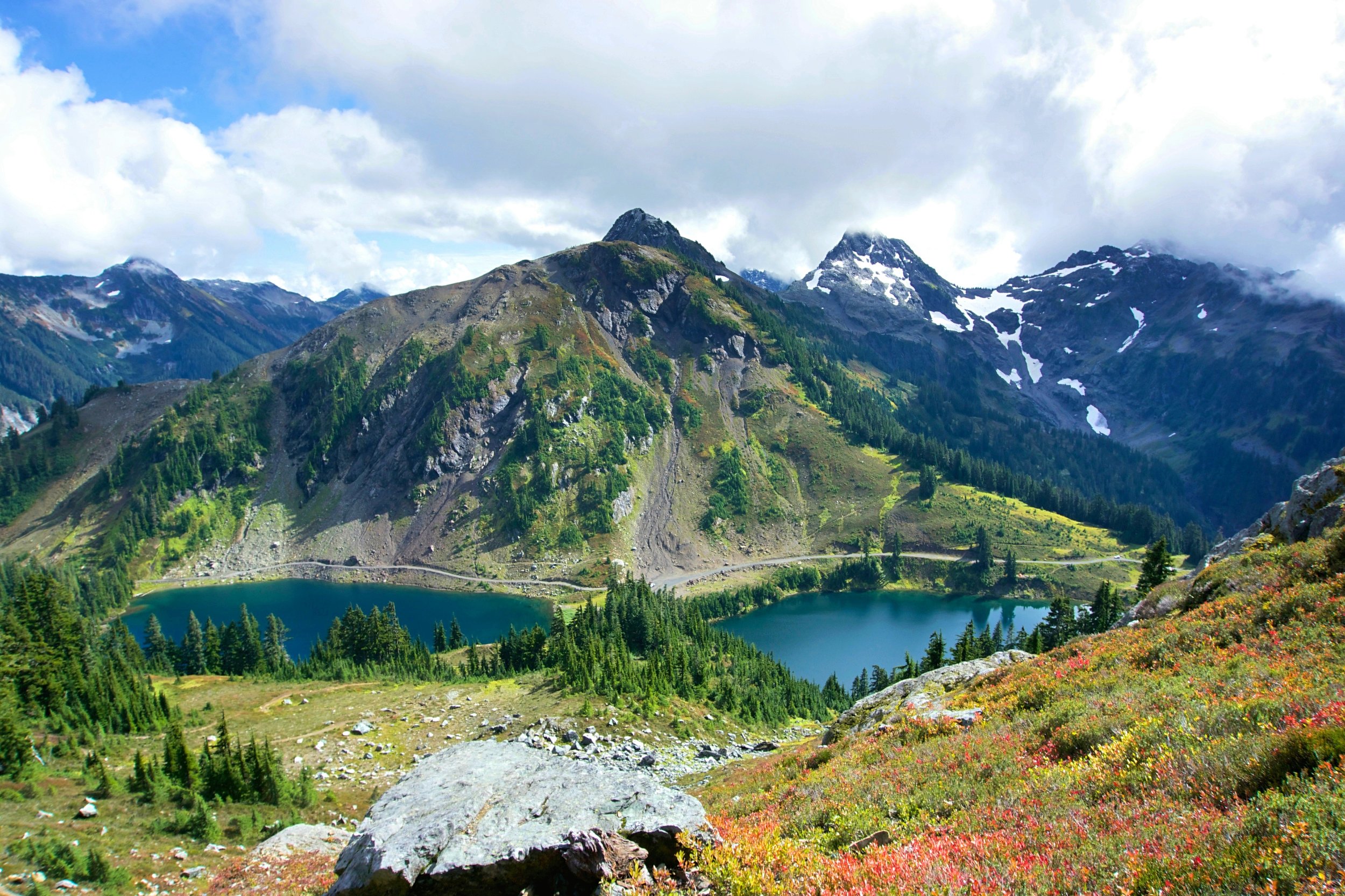 Winchester Mountain Lookout
Winchester Mountain Lookout is known to be one of the most rewarding hikes in Washington State. However, this hike is notorious for the awful road that leads to the trailhead. I highly recommend adding on the extra 4 roundtrip miles for this hike. My husband and I couldn't even make our way up in a high-clearance 4WD vehicle!
How to Get a Marriage License for Your North Cascades Elopement
To apply for a marriage license in Washington State, you have three different options: in-person, online, or by mail. For most people, online is the easiest and most convenient method.
Before applying for a license, you need to know a few things.
A marriage license in Washington State has a three day waiting period, meaning you can't get married until three days after obtaining your marriage license have passed.
The marriage license expires in 60 days.
You can obtain a marriage license from any county in Washington State. However, you have to return the signed paperwork back to the county you obtained your license from.
If you plan on getting your license from King County (Seattle area), you can view the online marriage license application here. To view step-by-step instructions on how to obtain your marriage license for your North Cascades elopement, click here where I break down exactly how to get a marriage license in Washington.
Do You Need an Officiant and Witness for Your Elopement?
Yes. Washington State requires an officiant and at least two witnesses for your elopement.
Pro tip: Friends and family can become ordained to officiate your elopement for free online through the Universal Life Church!
Only want an elopement with just the two of you? I'm ordained to officiate ceremonies! As for the witnesses? Well, hikers on trails and tourists are always more than happy to sign your marriage license!
How to Apply for Your North Cascades Permit
In order to elope in the beautiful North Cascades, you'll need what's called a special use permit.
The process to obtain a special use permit is very easy. Simply follow the steps below and you're good to go!
Email North Cascades National Park through their contact form found here, asking for the application for your elopement.
Fill out the Special Use Permit Application and send it back via email.
Pay the $50 application fee through the NPS website found here.
After the permit is processed (usually within 4-6 weeks), you'll receive your official copy via email. Don't forget to print this out and bring it with you on your elopement day!
If you are getting married within the Mt. Baker-Snoqualmie Forest (right near the border of North Cascades), you won't need a permit if you have less than 75 people attending your wedding. Some popular locations within this area include Artist Point and Bagley Lakes.
As an elopement photographer, I help with all things permits! If any of this information is confusing, or you're unsure where your elopement location is located, reach out! All of my North Cascades elopement packages include permit assistance.
How Many Guests Can I Bring?
Most locations in North Cascades can hold up to 15 guests. The same goes for locations in Mt. Baker. However, certain areas like the base of Bagley Lakes can only hold 3 comfortably, where other locations, like a mountaintop, can hold up to 30-50. Always ask your photographer and the park what would be realistic. The less guests you bring open up the possibility of more ceremony location.
Best Places to Stay in North Cascades National Park
North Cascades National Park is located near a few mountain towns that have some of the cutest Airbnbs and lodging available. Due to its seclusion, there are no chain hotels in the area. Instead, you'll often run into rental companies like Luxury Getaways and Mt. Baker Lodging that host many of the properties. Pro tip: If you find an Airbnb hosted through either of these companies, book it directly on their site to save money! Check out some of the places to stay below.
Glacier
Glacier is often the easiest and preferred place to stay, as it's located conveniently close to all the main sites like Artist Point. While there isn't much to do around the area in terms of shopping and dining, there is an abundance of places to stay and nature to see.
Rockport
Rockport, Marblemount, and Concrete are three small mountain towns located just minutes away from the park's entrance. With not much in the area besides a bar and gas station or two, these locations are perfect for couples looking for a true off-the-grid experience. The lodging in this area is much cheaper compared to that of Glacier.
Bellingham
If you're going to be visiting the park occasionally, I recommend staying in Bellingham. This hippie town is notorious for its arts, culture, and places to eat. There are a variety of shopping centers and restaurants from quaint coffee shops to chain dining. If you don't mind the scenic drive, you'll love this town! Plus, they have chain hotels if you prefer that over an Airbnb.
North Cascades Tips: 5 Things You Should Know
As a North Cascades elopement photographer, these are things I want all my couples to know about the park!
#1: You may need a parking pass. If any of your locations are within the Mt. Baker-Snoqualmie Forest, such as Artist Point, you'll need a parking pass. It's $5 a day and can be purchased online here. Failure to do so will result in an $80 fee. It's not super clear on their site, but make sure you purchase one!
#2: Dogs are allowed! Most areas within the park allow dogs, as long as they're leashed. Be ready to leave no trace by bringing doggy bags with you in the park.
#3: Cell service is nonexistent. There are very few places in the park that have cell service. Plan ahead and download maps ahead of time as well as communicate clearly with your vendors so everyone knows the plan.
#4: The weather is unpredictable. Especially during the spring and fall season, the weather can change in an instant from being sunny to rainy. Be sure to pack layers and be prepared for any weather condition.
#5: Plan to stay some extra days. The park is huge, and most areas are not within driving distance of each other. To make the most out of your trip, plan to stay an extra few days. Trust me, after seeing the immense beauty of this area, you'll kick yourself for not turning that 3-day trip into a 7-day trip.
Elopement Activities in North Cascades
I'm passionate about elopements being more than just a ceremony and pictures. What's better than immersing yourself in a stunning place with the one you love? These are a few activities couples can do together to make the most of their elopement experience.
Enjoy a picnic next to an alpine lake
Stroll downtown and enjoy a sandwich from Leaf & Ladle (they're amazing!)
Take a hike on the Chain Lakes Loop (one of my all-time favorite hikes)
Rent an Airbnb with a hot tub and soak with some champagne
Try your luck at skiing during the winter season
Go animal watching and try to spot a bear (there are lots in this area!)
Check out a local music festival in Bellingham
Stroll the local farmers market for a day
North Cascades National Park Elopement Examples
12-Hour No-Hiking Elopement
5:00am – Brianna meets the couple at their rustic Airbnb for getting ready shots.
6:00am – Have a first look right on the lake with candles and a pre-wedding dance.
7:00am – Head up to the mountain for an intimate vow reading.
8:00am – Arrive and begin the ceremony followed by portraits.
9:00am – Set up a breakfast picnic by the mountain.
10:00am – Explore a bit more around the area, taking photos along the way.
11:00am – Head back to the Airbnb to meet up with friends and family.
12:00pm – Enjoy some light snacks while the private chef preps lunch.
12:30pm – Lunch begins with friends and family, followed with a soak in the hot tub.
2:00pm – Leave for a ceremony with friends and family nearby.
2:30pm – Begin the ceremony, followed by family pictures.
3:30pm – Leave for the Airbnb.
4:00pm – Arrive and enjoy cake, champagne, and a first dance.
5:00pm – Photo coverage wraps up, Brianna leaves.
8-Hour Minimal Hiking Elopement
1:00pm – Brianna meets the couple at their Airbnb for getting ready shots.
2:00pm – Head out for a 2-mile roundtrip hike to an epic mountain view.
3:00pm – Begin the hike.
4:00pm – Arrive at the top and begin the epic ceremony, followed by portraits.
5:00pm – Head back to the car.
6:00pm – Leave for the Airbnb.
7:00pm – Arrive to a private candlelit dinner with cake, champagne, and a first dance.
8:00pm – Photo coverage wraps up, Brianna leaves.
North Cascades National Park Elopement Packages
North Cascades National Park is one of my all-time favorite places. I've created personalized elopement packages for couples looking to elope in this beautiful corner of the world.
North Cascades Elopement Package Pricing
4 hours – 1.5 days of elopement coverage anywhere in Washington
A personalized elopement planning experience with unlimited assistance

Personalized elopement location recommendations
Vendor, lodging, and activity recommendations
Assistance and information to help you with permits, licenses, etc.
90+ page elopement planning guide filled with tips and tricks
Customized elopement timelines
Optional complimentary officiant services

Online gallery with full resolution images and printing rights
24-48 hour sneak peeks to share with the world
Travel fees to anywhere in Washington are already included
Starting at $5,500
Want more elopement inspiration? Check out this Olympic National Park Wedding Guide, Washington State Elopement Guide, and Ruby Beach Elopement Story.
SNAG YOUR FREE ELOPEMENT GUIDE
For all things elopement planning. Whether you're hoping to hike through the mountains of Washington or sip a margarita on the beaches of California, this all-in-one elopement guide has everything you need to know about how to plan the perfect elopement.
ARE YOU READY FOR AN ELOPEMENT EXPERIENCE LIKE NO OTHER?
I'm Brianna, a California elopement photographer who inspires, encourages, and empowers couples to push traditional boundaries and create experiences they'll remember forever. I help couples all around the world plan unique elopement days by providing personalized location lists, vendor recommendations, permits, guides, and so much more.